Marvel-Schebler Carbs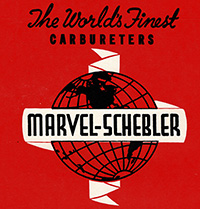 Marvel-Schebler was formed from the combination of the Marvel and Schebler carburetor companies in the early 1930s. Some early models, like the the TRX and DLTX are marked as 'Schebler' only; new models after the mid-1930's are usually marked 'Marvel-Schebler'.
Marvel-Schebler carburetors are identified by a number which may be stamped in the body, on a brass tag or sometimes cast into the body. Many TSX carburetors aren't marked with carburetor numbers. Since these come in 3 different sizes, the basic carb kit and float can be determied from measuring the screw spacing on the float bowl.
The Carburetor Doctor has kits and floats for most updraft and sidedraft Marvel-Schebler carburetors. We also have throttle shafts and hard parts for many TSX models, and have reproduction TSX carburetors and Zenith replacement carburetors.
Marvel-Schebler TSX numerical list | Other Marvel-Schebler carburetors by number