cm142: Ebook carburetor service manual - 122 pages, 87 MBytes, pdf format
Complete service manual: Comprehensive factory service information for Rochester Quadrajet M4MC carburetors. Includes theory, diagrams, detailed specifications, tune-up data and complete overhaul procedures. Fast, secure e-book download.

Covers 1975-1980 Chevrolet engine applications including Chevrolet and GMC Truck and 1977-1980 Cadillac carburetors.
Thumbnails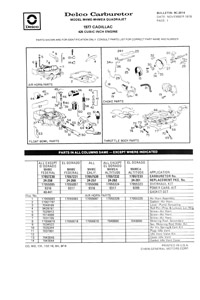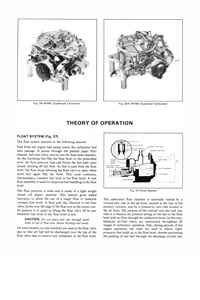 Table of Contents
Quadrajet M4MC / M4ME Quadrajet

General Description
Theory of Operation / Float System
Idle System, EGR
Main Metering System, APT
Power System
Air Valve Dashpot
Accelerating Pump, Choke System
Choke System
Maintenance and Adjustment
Service Operations
Diagnosis

Unit Repair - M4MC Quadrajet (Rebuilding)

Disassembly
Air Horn
Choke
Throttle Body
Cleaning and Inspection / Assembly
Float Level Adjustment

Carburetor Parts Listings

1977 Cadillac 425
1977 Cadillac 425 (Late)
1978 Cadillac 425
1978 Cadillac 425 - Eldorado, California Early
1975 Chevrolet 350 M4MCA
1975 Nova 350 M4MCA
1975 Corvette 350 M4MC
1975 Chevrolet 7045200 7045228 4045224 4045504
1975 Chevelle Monte Carlo Canada
1976 Chevrolet 17056202 17056203 7056502 7056503
1976 Corvette, Nova 350
1976 Corvette High Performance
1976-77 Chevrolet Canada 17056281 1756282 1756286
1976 Chevrolet 400-454
1977 Chevrolet 350
1977 Chevrolet Camaro, Nova, Corvette
1978 Chevrolet 350
1978 Chevrolet 350 High Perf
1978 Chevrolet M4MC Canada Z-94
1979 Chevrolet 305 17059297
1979 Chey Malibu, Monte Carlo 2.29 Axle
1979 Chevrolet 305 Altitude
1979 Chevrolet 17059216, 17059217
1979 Camaro, Corvette 350
1979 Corvette L-82
1979 Chevy 350 Canada Z-94
1979 Chevrolet 350 California
1979 Chevrolet 350 California 17059582, 584
1975 Chevy GMC Truck 350 M4MCA
1975 Chevy GMC Truck 454 M4MCA
1976 Chevy GMC Truck Light Duty
1976 Chevy GMC Truck Light Duty - 2
1976 Chevy GMC Light Duty 350
1976 Chevy GMC Canada
1976 Chevy GMC 454
1977 Chevy GMC 350 Light Duty
1977 Chevy GMC Light Duty 350 - 2
1977 Chevy GMC Light DUty 350 Altitude
1977 Chevy GMC LIght & Heavy Duty
1978 Chevy GMC Light Duty 350
1978 Chevy GMC Light Duty 350 California
1978 Chevy GMC Light Duty 350 Altitude
1978 Chevy GMC Light Duty 400
1978 Chevy GMC 454 Heavy Duty
Kits Covered WIth This Manual