cm456: Ebook carburetor service manual - 28 pages, 26 MBytes, pdf format
Complete service manual: Comprehensive factory service information for the Carter YH carburetor. Includes theory, diagrams, detailed specifications, tune-up data and complete overhaul procedures. Fast, secure e-book download.

Covers Chevrolet Corvette, Corvair, Dearborn Marine and Nash applications in detail.
Thumbnails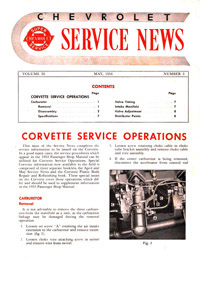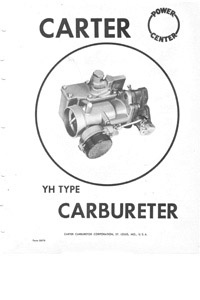 Table of Contents
Carter YH Service Manual
Float Circuit
Low-Speed Circuit
High Speed Circuit
Pump Circuit
Climatic Control Choke Circuit
Chevrolet Service News - Corvette
1954 Corvette Carb Synchronization
1953-1955 Corvette YH Specifications
1962-1965 Corvair YH Specifications
1957 Dearborn Marine YH Specifications
1955-1956 Dearborn Marine YH Specifications
1952-1955 Nash YH Specifications
Kits Covered WIth This Manual