cm531: Ebook carburetor service manual - 93 pages, 110 MBytes, pdf format
Complete service manual: Comprehensive factory service information for the Holley 2140SG / 4000G heavy duty concentric carburetor. Includes theory, diagrams and complete overhaul procedures. Fast, secure e-book download.

Covers the Holley 2140SG / 4000G carburetor used on Autocar, Diamond T, Hall-Scott, IHC, REO and White truck applciatons.
Thumbnails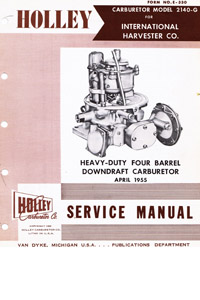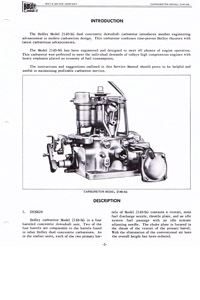 Table of Contents
International Harvester Holley 2140G Service Manual

Contents
Introduction / Description
Operation
Overhaul
Cleaning and Inspection
Rebuilding
Installation / Service Hints

White Holley 2140SG Service Manual

Contents
Introduction
Operation
Overhaul
Cleaning and Inspection
Installation
Service Hints
Trouble Shooting Charts

Specifications

Autocar: R-1448, R-1594
Diamond T: R-864A, R-977A
IHC RD-501 Engine: R-864A, R-977A
IHC V-549 Engine: R-987-1A, R-1348A
REO: R-1792
White Truck: R-1053, R-1169, R-1170, R-1290, R-1291, R-1292, R-1359, R-1448, R-1449, R-1589, R-1590, R-1591, R-1594, R-1597, R-1669
White Truck: R-1592, R-1593, R-1594, R-1595, R-1596, R-1597, R-1669
Kits Covered WIth This Manual