cm550: Ebook carburetor service manual - 60 pages, 37 MBytes, pdf format
Sixty pages: Complete factory service information for the 1952-54 Hudson Carter WA-1. Includes detailed manuals as well as specification sheets, parts lists and diagrams, and tune up information. Covers 990S, 2009S, 2114S and SA carburetors.
Fast, secure e-book download.
Thumbnails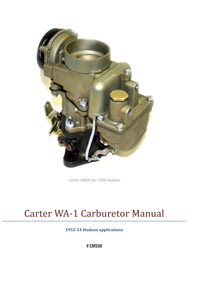 Table of Contents
1957-1961 Buick Stromberg WW - Description and Operation
Disassembly, Cleaning and Inspection
Assembly and Internal Adjustment
Extern

1952-54 Hudson Carter WA-1 Manual
Specifications
Service Procedure
Carter Motor Tune Up Manual

Service Instructions

Motor Tune-Up and Carburetor Service Instructions
Mileage Complaints
Compression
Ignition
W-1 carburetors
Origin of the circuits
What the circuits are and what they do
Climatic control
Disassembling
W-1 carburetor: servicing the float circuit
Servicing the low speed circuit
Antipercolator adjustment
Servicing the high speed circuit
The Carter Vacumeter carburetor
Servicing the pump circuit
WA-1 and WO
WA-1
WO
Carter-carb-service-instructions0036
WDO
Checking for complaints: W-1, WA-1, WO, WDO Carburetors
Identification of W-1, WA-1, WO, WDO, WCD carburetors
Carburetor Flanges
Carburetor Flanges
Itemized Contents of Tool Kits

al Adjustment
Kits Covered WIth This Manual