American Zenith carburetors were produced by Bendix Corporation and later by Zenith Fuel Systems. We have kits and floats for most Zenith carburetors from the mid-1930's onward.
Master List of Zenith Carburetors by Number
Some American Zenith Downdraft Carburetors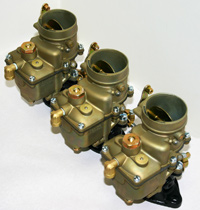 Set of three Zenith 28 Marine Carburetors

Zenith Model 28 carbs have the idle mixture screw in the float bowl, Model 228's have the screw in the throttle body. Many 28's and 228's use kit CK514.
Zenith 28/228 Tech Information
Zenith Model 28 Duplex from a late 1940's REO truck
The Zenith Model 28 Duplex (Model 28ADA) was a two barrel version of the Zenith 28. It was used on a variety of large 6 cylinder truck applications in the 1940's, including REO and Federal truck. Many of these are serviced with our kit CK620.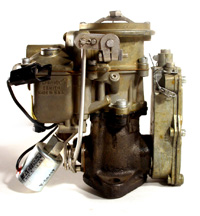 Late Model (1980's) Industrial Zenith 228 With Governor

Y200 - New Reproduction Zenith 228 Carburetor